This is one of the darkest political novels ever written –cynical, gritty, in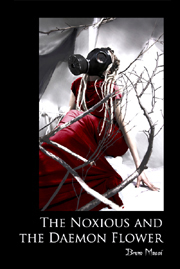 cisive; a most dangerous work from one of Canada's most radical authors.
Dim is a caffeine-ridden anarchist desperate for a way out of the Maze. Enters Aethel, a fearless nihilist who's out for blood. Together within the Obscurantis Disorder, they wreak Chaos over Metropolis and seek to destroy everything the World has become.
A visionary work of rare beauty and gothic aesthetics, The Noxious and the Daemon Flower offers a horrifying new perspective on counter-cultural activism.
Published by La Foret Noire, 2007 Published by LuluPress, 2010
Paperback 6" x 9"
180 pages, black and white.
Cover by Candace from Candylust.org
ISBN 9780557045273
Paperback 10.95 USD
Download 3.95 USD
"In May 2008 I had the great pleasure of seeing Le Comité de la Fin du Monde, which to me stole the show at the Montréal Anarchist Theatre Festival. Bruno Massé was part of that troupe and its audacious, hilarious, and finally anti-civilization performance.Bruno (aka Raven) is also a novelist and his The Noxious and the Daemon Flower is another great pleasure. I think that if Raoul Vaneigem (Situationist and master of radical subjectivity) had written a goth novel he couldn't have done better. Its forward, in fact, sends the work off in a more radical spirit; it is presented "In feral and infectious anarchy."Coming from the pen of a dramatist, NDF is, unsurprisingly I suppose, highly dramatic. It is variously dark as Midnight, lush and over-the-top Romantic in style, demented, nihilist––and quite unique. For it is also utopic, philosophical, focused. It has edge, it has passion. Dim, Aethel, Daeva and many others share their odyssey, their battles and narrow escapes and more, with nothing held back. A wild ride, very much worth taking!
 John Zerzan
Author of Elements of Refusal, Questionning Technology, Future Primitive, Against Civilisation, Running on Emptiness and Twilight of the Machines. Co-editor of Green Anarchy and host of Anarchy Radio.
This is a valuable introduction to the visionary world of a significant new voice in contemporary anarchist literature. Raven demonstrates in his own brilliant, imaginative way, how novelists, and not politicians or media darlings, are the true barometers of our time, and how the 'flames of a burning black star' can illuminate another possible road towards self-assertion and human liberation.'
 Norman Nawrocki
 Internationally acclaimed, Montréal-based author, musician, sex comedian/educator, cabaret artist, actor, producer and composer. Author of Breakfast for Anarchists, The Anarchist and the Devil Do Cabaret, No Masters! No Gods!, Chasseur de Tornades and Rebel Moon.