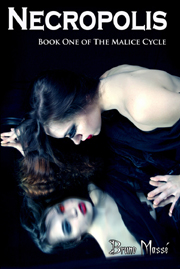 Five hundred years after the Collapse of Civilisation, Necropolis stands as the Last City of Man – a land without light, a land without hope. In this failed anarchist utopia, Malice lives a life of torment and debauchery, outcast among outcasts. When a flower of impossible color comes into play, she realizes there may be more to the world than the inhabitants of Necropolis would like to admit. By unveiling conspiracies at the heart of the city, Malice will become an iconoclast at her own expense, sacrificing everything to learn the truth and earn her freedom.
Three years in the making, Necropolis is the first title in the Malice Cycle Trilogy.
Paperback 6" x 9"
326 pages, black and white.
Published by LuluPress, 2012
Paperback 19.95 US
ISBN 978-1-300-13929-4
Cover by Candace from Candylust.org

Download the free e-book (pdf)
Read the three year Development Diary
Reviews
A must read. Bruno Massé uses his black as coal but highly developed visionary imagination to weave an alternatively delightful, magical, disturbing and profoundly damning social critique of contemporary society and the future that conceivably awaits us. The book explodes with passion and longing, love and rage and limitless fantasy. Challenging and provocative, heartbreaking and endearing, it is also captivating and full of action. This is a remarkable accomplishment from a masterful story teller. It reveals yet again the talents of one of Canada's brightest from the new generation of the global anarchist literary scene.
Norman Nawrocki
Internationally acclaimed musician, speaker and sex educator. Author of Rebel Moon, The Brain Food Trilogy, The Devil and the Anarchist do Cabaret and many more.
Necropolis is a mordantly gothic tale of a goth enclave believing itself the last Dystopian city of Man, lost in the midst of a vast unknown void… In it the mutant heroine, Malice, is sickened by the suffocating expectations of an increasingly superficial, hedonistic population in a decaying, semi-anarchic city governed by the Tenets of Dystopia. The story recounts her turn from passive victim to author of her own bloody destiny. If you enjoy futuristic, gothic fantasy with plenty of blood and gore, conspiracy and betrayal, this story delivers it with an anti-civilizational edge.
Jason McQuinn
Alternative Press Review / C.A.L. Press, Former editor of Anarchy: A Journal Of Desire Armed magazine
Necropolis is a Neo-Gothic milestone that stretches the boundaries of dark fantasy to challenge the flawed conceptions of conventional society. Author Bruno Masse masterfully weaves a darkly imaginative and intelligent story, rendering it with lush, poetic language to create a complex and compelling Dystopian mythology filled with moody landscapes and a fascinating hierarchy of characters.
Joseph Vargo
Member of Nox Arcana, one of the world's leading dark ambient bands. Author of Tales From The Dark Tower
Tangled in a twilight zone that slumbers between science fiction and fantasy, with bold, poetic strokes, it paints a haunting background and an unforgettable character in Malice. Be among the first to collect the beginning of what is bound to be considered classical anarchistic fiction from a very memorable writer.
Karla Fetrow
Subversify Magazine
Bruno Masse may indeed be 'Canada's darkest author' but this ravening civilization we all find ourselves is darker. So I am happy that he pushes on with his ambitious writing. Necropolis is an ancient tale – and couldn't be more timely. Bravo, Bruno!
 John Zerzan
Internationally acclaimed speaker, host of Anarchy Radio, author of Elements of Refusal, Future Primitive, Against Civilization and Twilight of the Machines.
Trailer
Necropolis Trailer. Music by Nox Arcana.